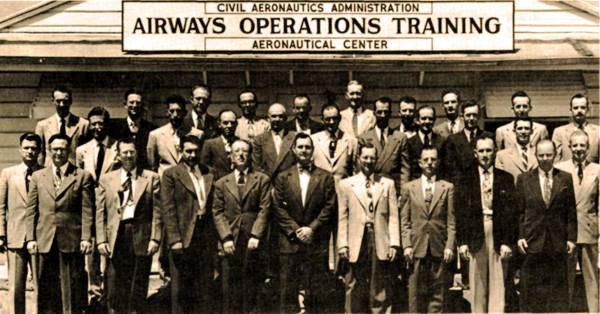 First CAA Air Traffic Control Class
Course TX1
4/14/1952 - 6/20/1952
"First air traffic control class to be held at the Mike Monroney Aeronautical Center.
It was comprised of 14 Chief Airways Operations Specialists and 3 District Supervisors."
Class Names (left to right)

Front row:
J.D. Donohoe Jr. (AMA), George Crowley (AC), John Busby (MCN), Dick Carmen (IND), L.S. Yates (SEA), Tobey Lindsey (DS ATL), Woody Woodson (DS MKC), Howard Bate (DS ATL), Bridges (AC), ? (AC).
Second row:
Mitchell (AC), Ralph Vroman (GBN), George Corning (BIL), V.A. Jones (SHV), Pat Wilhoite (BFL), Fulkerson (AC), Jack Grewell (AC), Charles Meyers (AC), Charles Dowling (AC). William Cruz (AC).
Third row:
Don Church (AC), H.M. Bray (BOI), J.C. Chesnut (MAF), Dell Russell (TYR), Charles Tate (RBL), Jake Jacobsen (CHI), Robin Boughn (AVC), Crowley (AC), Perry Bolyard (AC), Charles Antweiller (AC).