First Controller Dies
League, Archie W. #1168H, October 1, 1986 at Annandale, VA. Age 79.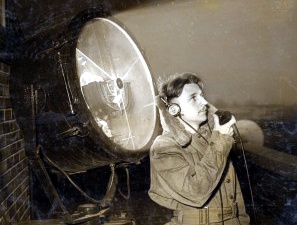 It is believed that Archie was the nation's very first historically authenticated air traffic controller. Archie was an airplane mechanic at St. Louis, when in 1929 he was hired by the city to organize the traffic at the "busy" Lambert Field. His 'control tower' was a wheelbarrow on which, in summer, he mount­ed a beach umbrella. In the wheelbarrow he carried a beach chair, his lunch, water, a note pad, and a pair flags to go or hold. In winter he wore a padded flying suit.
He Joined the Bureau of Air Commerce, the predecessor of the CAA, in 1937. He served at Pittsburg and St. Louis Centers. His entry into the yet-unknown field of air traffic control followed a study of aeronautical engineering, becoming a licensed airplane and engine mechanic, barnstormer, and operator of a flying circus. All this preceded his 36 year career with CAA/FAA.
In World War II he served as a pilot with the Army Air Corps in the Pacific rising from 1st lieutenant to colonel. After the war he returned to the CAA Kansas City Regional office where in 1955 he became Chief, Airports Division and In 1956 Assistant, Regional Administrator. In 1958 he moved to Washington Headquarters as Chief, Planning Division and in 1959 became Assistant Director, Bureau of National Capital Airports. In May, 1960 he was selected as Director of the Southwest Region. In 1965 he was appointed Director of the Air Traffic Service, and in 1968 became Assistant Administrator for Appraisal. The position he held at retirement in 1973. After retiring, Archie worked as a consultant on air traffic control issues and safety. He was a member of the Daedalians, an organization of military pilots; and the Quiet Birdmen, a group of retired aviators. Archie was a real pioneer, and all of us who worked with and for him will miss him.
Survivors include his wife of 40 years, Margaret, daughter, Patricia and a brother, Claude. Margaret said "He (we) had an interesting career. Crossing the Bar, God cares for Archie now." Reported by Margaret League and many others.