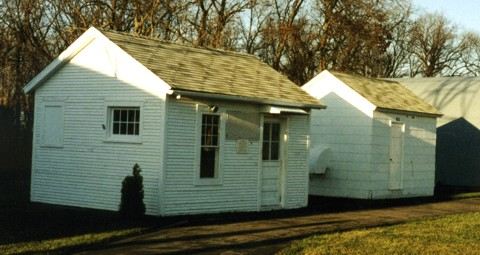 Mauston Aeronautical Light Station, Wisconsin.
This picture is of the two buildings that comprised the Mauston Aeronautical Light
Station in Mauston, Wisconsin. It was in that location from the early to mid 1920's
to approximately 1928. At that time, Mauston was decommissioned and the buildings
moved to Lone Rock, WI.
The building on the left was the actual facility. The one on the right was the generator
room. Sometime in the late 1940's or early 50's, the facility was replaced by a larger
building, but the original facility building was maintained and used as a storage room.
The generator building continued to house the emergency generator for Lone Rock
FSS (LNR) right up to the day the facility closed. Around 1985 both buildings were
again moved, this time to Oshkosh, WI and the EAA's "Pioneer Airport" exhibit, part
of the EAA museum.
Return to Facility Photos home page.