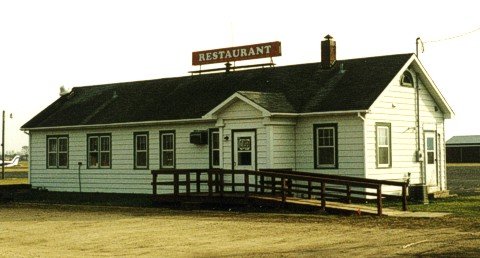 Lone Rock FSS (LNR), Wisconsin.
This one needs a little explaining. After Lone Rock FSS was officially closed, the
building was converted to a restaurant, hence the signage on the roof. However,
this was the Lone Rock FSS building. The covered front entrance and the handicap
ramp are recent additions, along with the sign.
The ATM's (chief's) office was located to the right of the entrance (corner windows).
The first set of windows to the left of the entrance opened into the walk-in briefing
area and operations. The far left half of the building was occupied by Airway Facility
offices (far end) and FSS radio racks. The door on the right rear corner opened into
the "break/locker" room, where the tanks for the weather balloons were stored.
Out front in the present parking lot was where the thermometer shelter was located
and the wire leading off to the top right goes to the rotating beacon.
Henry Luxem was the last FSS manager (acting) at Lone Rock. Henry and Mark Carver,
ATCS, locked the doors on a Friday afternoon. Lone Rock FSS officially
closed March 4, 1983. Custodial property was turned over to La Crosse FSS
at that time.
Return to Facility Photos home page.