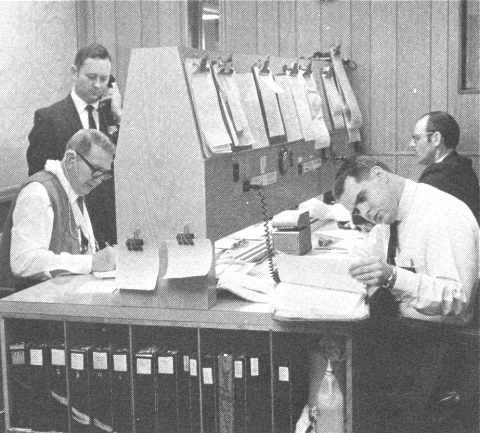 Washington FSS (DCA), District of Columbia.
Pilot Briefing, Washington National Airport, 1969.
Briefing is given airborne pilots and position reports are taken to follow flight plan
progress at the Pre-flight Telephone Briefing console. Calls from other outlying
satellite fields to the automatic call allotter. (Foreground left), Specialist Joseph
Zeal fills out a telephone flight plan. Behind him, Garland Holloman takes a call.
(Right foreground), Gilbert L. Shade checks Airman Manual to answer pilots
questions about the destination airport. Behind him, Specialist Clayton Deckman
mans the telephone.
Return to Facility Photos home page.